Ninja Ripper and Web Ripping
Ninja Ripper and Web Ripping

English
Official support page on cgig.ru/forum
This article describes how to «rip» 3d models, shaders and textures out of the web browser (Firefox, Chrome and Opera 32/64 bit versions) using directx 9 and import ripped models/textures into 3DS Max.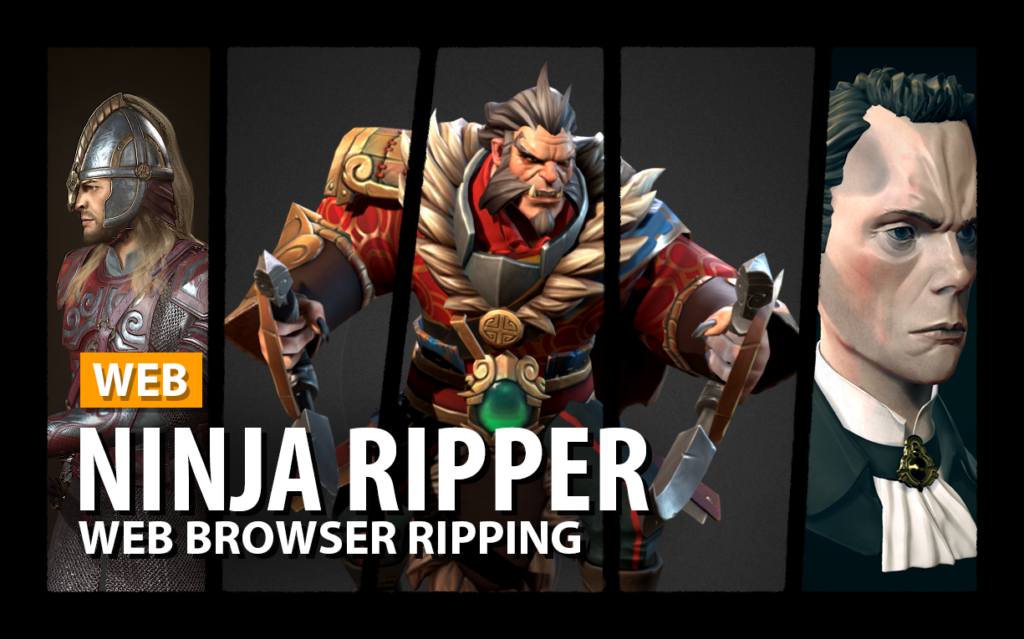 Note: The article is designed for expirienced 3ds Max users and doesn't cover detail things such as, for example, texturing objects, setting up materials, etc.
---
Disclaimer: please be wise, respect artist hard work and use any ripped model (artwork) ONLY in educational purposes. Delete ripped model (artwork) after studied it. DO NOT use any ripped model (artwork) in commercial purpose, to sell it or within your work in any type or kind.
---
For the conversion process, we need the following tools:
3ds Max (I'm using 2009 х86) should work on versions 2009+
Ninja Ripper v1.6.0 (ripper itself) Author: blackninja [page]
GIMS Evo Importer (3ds max import script) Author: 3Doomer [page]
Firefox (web browser) Author: Mozila [page]
Chrome (web browser) Author: Google [page]
Opera (web browser) Author: Opera Software [page]
[not necessarily] ninja_importer v1.3 (3ds max script) Author: blackninja [download]
[not necessarily] Noesis v4+ (3d model viewer/converter) Author: Rich W. [page]
[not necessarily] Blender v2.49b (3d modeling software) Author: Blender Foundation [download]
The only tested browsers is Firefox (ver. 47 and 51), Chrome (ver. 56) and Opera (ver. 43, x64). It may not work on all other browsers. Used specs: Windows 7 x64, GeForce GTX 970 (also GTX 660).
1. run Ninja Ripper;
2. choose Intruder Inject (for some cases you may use D3D9 wrapper mode);
3. set path to firefox.exe (chrome.exe or opera.exe):
Note: you should't rip in Program Files (x86) or Program Files folders because Windows may block privilege for these folders. Also you can choose Output Directory not on system drive (C:\) but on D or else.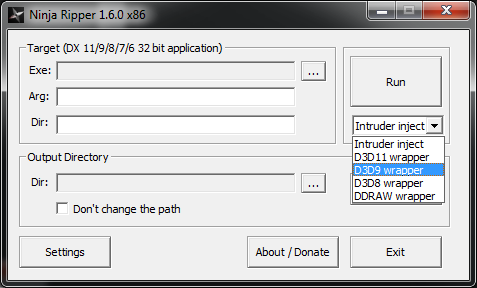 4. set Settings/Forced button to F4 (or any other button wich browser doesn't use) also set Forced Rip Interval (sec) to 5-10 (defaul is 3 sec). In case of Opera you might increase this interval up to 20 sec.: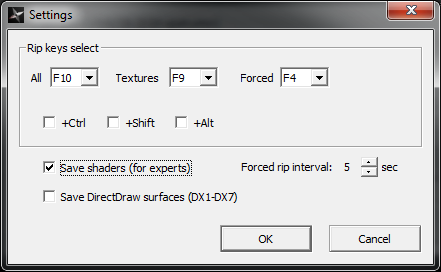 5. run browser .exe with Ninja Ripper (mode: Intruder Inject);
6. open website and page you want to rip: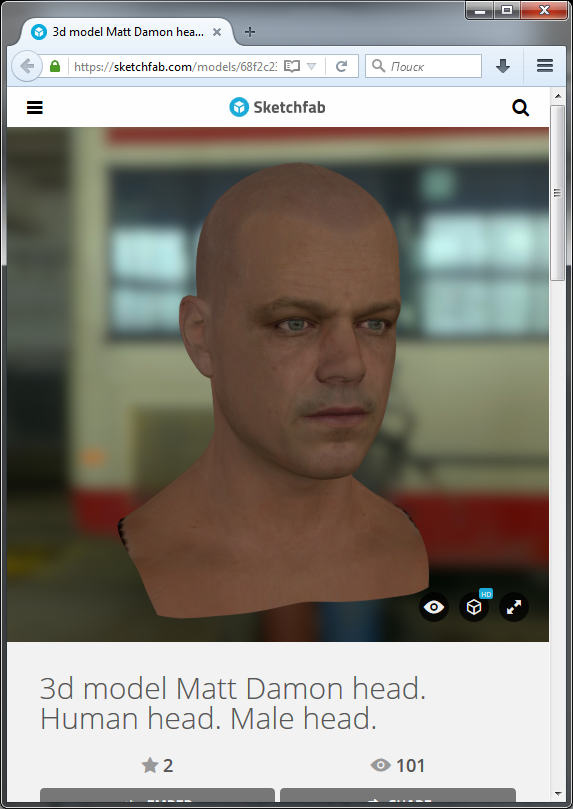 ex.: https://sketchfab.com/models/68f2c2374a9f432b9672eb2e44d2cebd
7. wait until webpage load completely;
8. tap on the model view (or you may click on the model itself) and then tap F4 (Forced) to start ripping process:
models will be saved along with the textures. Models can be duplicated multiple times due to the type of rip (forced, on interval). Look at the window below, it's clear there's a file size pattern by which you can determine usefull files. In this case these files are in between file Mesh_000.rip and file Mesh_0028.rip: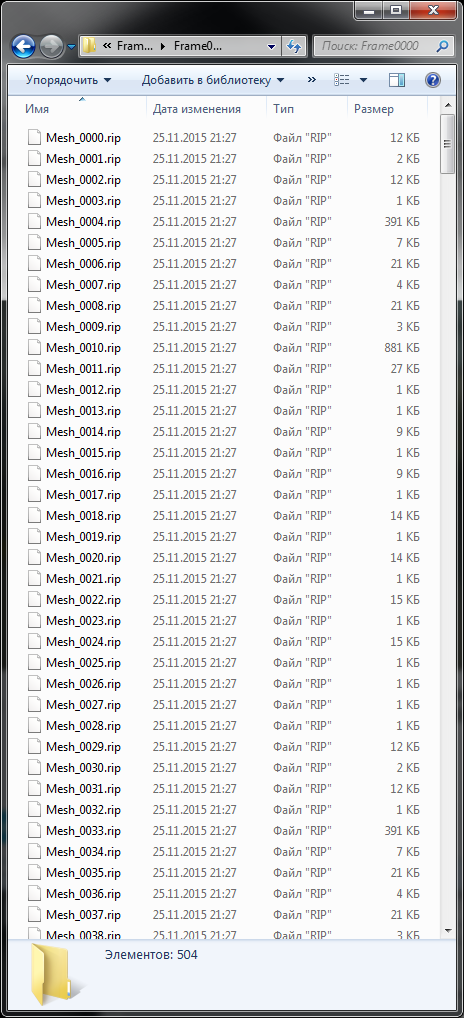 search through the rip files by size for size pattern;
identify the file after which the group begins to repeat;
see image above for example. First 29 files it's a group you looking for;
copy first group of the files to another folder along with the textures for convenience' sake;
9. load rip files into 3ds max with uv pair: 3-4 (with old importer only). The new — GIMS Evo — importer will load all the available UVs in to different UV channels of the model: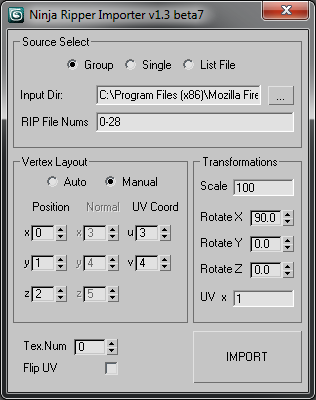 [FURTHER PROPERTIES COULD VARY FROM SITE TO SITE OR FROM MODEL TO MODEL]
10. each object consists of 2 meshes [fair for sketchfab]: main (most of the polygons — fliped for most of the time) and secondary (some randome triangles):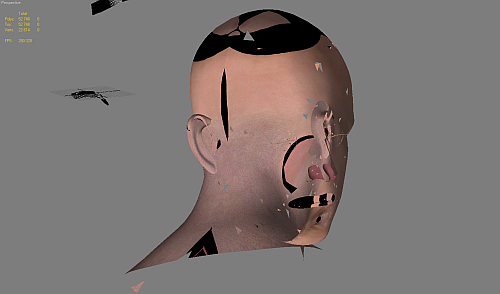 main object polygons need to be inverted;
sometimes UV need to be inverted;
is almost every time meshes are randomly placed after import into 3ds max scene but could be fit to each other with Snap tool;
11. to rip another model you have to clear <date>_<time>_<browser_name>.exe folder first,because ripper will not create new folder and will rip into <date>_<time>_<browser_name>.exe folder again mixing models and textures with previous rip results.
12. to import models into 3ds max read this article at section 3. Importing models into 3ds max.
13. the final model with 3ds max shaders: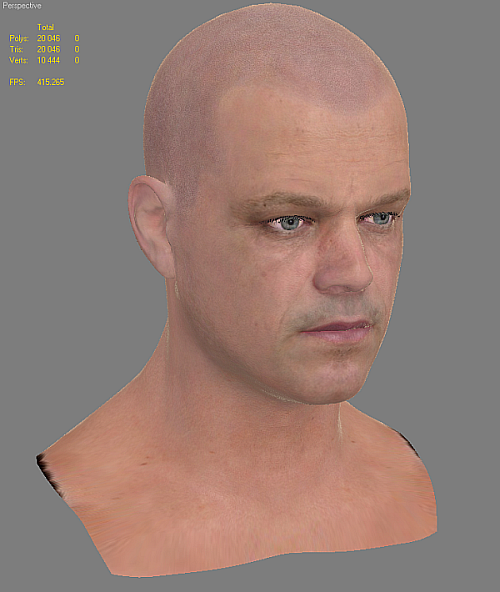 14. list of websites with 3d models:
http://p3d.in/ (scale: 1, uv: 6-7)
https://sketchfab.com/ (scale: ?, uv: 3-4)
https://www.artstation.com/