Converting 3d model from Mafia 2
Converting 3d model from Mafia 2

Русский /

English
[UPDATED] — 24 Oct 2020
In this article I will describe the process of converting models from Mafia 2 into 3ds Max. Converted models have a skeleton and are ready for animation.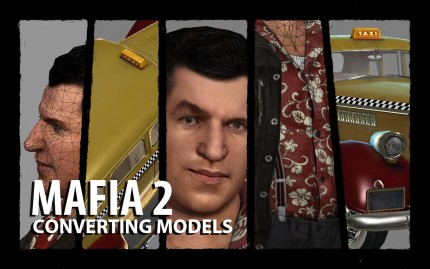 Show list of changes (24 Oct 2020)
— re-built M2CharMC / M2ObjMC tools with latest version of compilator.
Show list of changes (27 Jan 2012)
— I updated the program M2CharMC and M2ObjMC and now they are NOT IDENTIFIED AS VIRUS. You can download the updated links.
Show list of changes (29 Dec 2010)
— added english language.
Show list of changes (30 Nov 2010)
Note: The article is designed for users familiar with working in 3ds Max and does not cover such things as, for example, texturing objects, setting up materials, etc.
For the conversion process, we need the following tools:
3ds Max (i use 2008 х64) should work on versions: 7-2011
M2CharMC v0.7 (model extractor from *.sds) Author:

Tosyk

[download]
M2ObjMC v2.6 (model extractor from *.sds) Author:

Tosyk

[download]
ExSDS v0.3 (*.sds unpacker) Author:

CJay

[download]
1. Unpacking the game archives. Install the game Mafia 2. If the installation is done by Steam service, then on the hard drive should already be unpacked steam-archives. Before using the disk versions of the game, you must first extract the files. Game archives are located at
<install path>\mafia ii\pc\sds\
and they have the *.sds extension. In these archives are all resources.
2. Model conversion. Game models are in
<install path>\mafia ii\pc\sds\hchar\ — characters
<install path>\mafia ii\pc\sds\cars\ — cars
<install path>\mafia ii\pc\sds\fmv\ — objects and characters (from the cutscenes)
<install path>\mafia ii\pc\sds\traffic\ — pedestrians
<install path>\mafia ii\pc\sds\wardrobe\ — objects in the closet
<install path>\mafia ii\pc\sds\weapons\ — weapons
<install path>\mafia ii\pc\sds\player\ — main characters
<install path>\mafia ii\pc\sds\city\ — objects of the city
It is quite possible that the models are also present in other archives, but I wrote only about the most important of them. To convert the models and textures, I wrote 2 tools that facilitate the model conversion process. Each of the two programs extracts the model from *.sds files and converts it into a format *.dae.
Tools:
M2CharMC v0.5 (character converter)
M2ObjMC v2.5 (game object and car converter)
Converters are based on two programs:
Mafia2ModelDumper (model dumper) Author: DerPlaya [page]
mesh2rdm (game model converter) Author:

Rich Whitehouse

[page]
Note: Why not use the original program? Because after the conversion with Mafia2ModelDumper *.dae-files is not impossible to properly use in 3ds Max.
For example converting I took two files.
<install path>\mafia ii\pc\sds\hchar\joeciv.sds
<install path>\mafia ii\pc\sds\cars\shubert_taxi.sds
joeciv.sds contains the character Joe (the summer version). shubert_taxi.sds contains a model of the car Shubert (version of a taxi). So, drag-and-drop joeciv.sds (or several files) on the M2CharMC (m2char_mc_v0.5.exe) and after a short conversion process near the source file (in my case it joeciv.sds) will be a two files:
joeciv.JOECIV.Hips.L0.dae — high-poly model
joeciv.JOECIV.Hips.L1.dae — low-poly model
Note: You can open *. dae files in 3ds Max. However, the built-in importer cope with the format is not the best way, so I recommend using the OpenCOLLADA importer.
After importing joeciv.JOECIV.Hips.L0.dae (I chose the high-poly model) in 3ds Max you will see: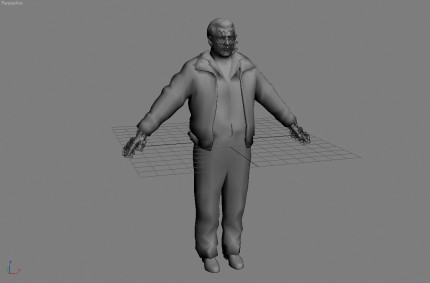 In the same way, but the with M2ObjMC program convert shubert_taxi.sds. Import model in 3ds Max. In viewport you'll see: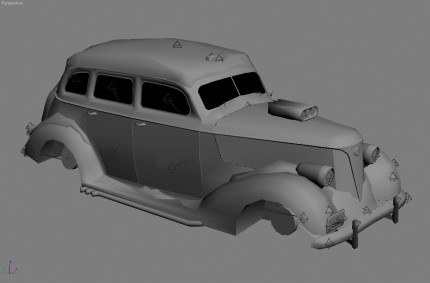 3. Texture conversion. Textures are packaged in *.sds files along with the model and the extracting with ExSDS tool. Interface: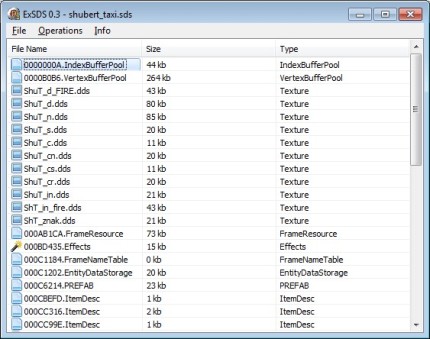 Files extract with command Operations -> Extract All. Recoverable files are in *.dds format.
4. Also. For this game currently released 7 DLC:
Vegas Pack
War Hero Pack
Renegade Pack
Greaser Pack
Made Man Pack
Jimmy's Vendetta
Joe's Adventures
Format of archives in the DLC is the same as in the original (*.sds), but these files are encrypted. From them we can extract a model, but can not extract texture. To decrypt files, use Illusion DecompressSDS, part of the Illusion Tools from Gibbed. The program is console only and does not have an interface. To decrypt the *.sds you need to drag the source *.sds file on Gibbed.Illusion.DecompressSDS.exe.
In the resources of this game is hard to find eye for characters, since they all shared. They may be located in the most unexpected *.sds files, so I am publishing an archive of the most common eye textures. [download eye texture].
For cars as well as for the characters were used shared textures, as well as models (wheels), they are placed in the archives:
<install path>\mafia ii\pc\sds\cars\cars_universal.sds
<install path>\mafia ii\pc\sds\cars\cars_universal2.sds
For some files *.sds can find a copy, but with «_z» suffix , for example, for file shubert_taxi.sds this copy is called shubert_taxi_z.sds. Suffix «_z» means «winter «,most likely this file contains the variations of winter textures.
Found a model that is extracting is not correct, it:
<install path>\mafia ii\pc\sds\hchar\franca.sds
or its conversion you need to use the original dumper from DerPlaya [page], and open model in XSI, or in latest version of Blender.
5. Rendering. 3ds Max and shaders.